SAUDADE, Documentary, 30 min.
An old Brazilian legend says that the African gods created the feeling of saudade to remind people where they come from andwhere they are. This short film explores and defines the feeling in various ways, both positive and negative. Saudade is a richly layered film about emigration and identity, and about how culture forms your worldview.




Production: Michael Kalb and University of Television and Film Munich (2019)
Director: Denize Galiao
Cinematogaphy: Dino Osmanovic
Editing: Valeria Valenzuela


Wir Schwarzen müssen zusammenhalten! - Eine Erwiderung
Theater, Film, Livestream Performance, 90 min.

A skewed picture that paints a cohesion between the black-conservative ruled Bavaria and the former German colony Togo and conceals power relations, economic interests and the political situation in arule that lasted for decades. Developed in an exchange between Togolese artists and a team from the Münchner Kammerspiele, the show tells the documentary mash-up a futuristic ghost hunter's journey through time from acting,
puppet show, comic and film. It exposes colonial phantoms and pursues them to the present day.

Production: Münchner Kammerspiele and Goethe Institut Lomé (2021)
Director: Jan Christoph-Gockel
Live Editing & Editing: Denize Galiao

The Door Of Return, Documentary, Fiction, hybrid, 30 min.

Do I really have to travel to 2020?
Or can I still switch to another year?" Two black women in a hologramm context. The year 2440. Place of residence: Saturn. Racism, sexism and capitalism have been overcome. The destination: Earth. The history of our past echoes into our future. Afro-German, that has been made invisible. The N-word that continues to be uttered in Germany, Germanness and Blackness as a contradiction, an error in the system. "The Door of Return" is an Afro-futuristic documentary. A thought experiment.




Production: University of Television and Film Munich & Kalekone Film (2021)
Director: Kokutekeleza Musebeni & Anna Zhukovets
Editing: Denize Galiao


IN THE SHADOW OF COPACABANA, Documentary, 60 min.

Ricardo Gama lives imprisoned in his own home, the internet being his only access to the outside world. For several days the attorney does not leave his flat, which is located at the Copacabana. On his blog he writes and reports about politics, corruption and criminal activities in Rio de Janeiro. As a result, he only barely survived an assassination attempt in 2011, in which he suffered two shots to the head. A year later, Ricardo is running for the City Council of Rio de Janeiro. He sees these elections not only as a way into politics, but a path to freedom, also. While Ricardo runs his campaign on the Internet, rival politicians are fighting for every vote on the streets with music and dancers. Through this single destiny a dark side of Brazil is depicted, a world the public has not yet known.

Awards: FFF Talentaward Dokfest Munich 2014

Production: University of Television and Film Munich (2014)
Director: Denize Galiao
Cinematogaphy: Jonas Spriestersbach
Editing: Denize Galiao & Magdalena Windhart


THROUGH THE LENS OF INKEDKENNY, Documentary, 17 Min.

InkedKenny is a photographer who has a special relationship to his models, he dares to look behind the facades. Trought his fotography he shapes the universe of the homosexual Bear Community of Montreal by taking pictures of muscular men who embody a certain ideal of beauty. What appears at first glance to be a pure body cult is a source of strength in an extraordinary fate.

AWARDS:
* Best Documentary, Bamberger Kurzfilmwoche 2013
* Best Film Grand Prix, Lugano Film Festival 2013
* Award, Queer Streifen Festival Regensburg 2013
* 2nd Prize, Konstanzer Kurzfilmspiele 2013
* Honorable Mention, Regensburger Kurzfilmwoche 2013



Production: University of Television and Film Munich & L´inis production (2012)
Director: Denize Galiao & Marie Elisa Scheidt
Cinematography: Jerome Hof
Editing: Volker Gütlein

SOME LIKE IT SWEET, Documentary, 15 min.
Nine women meet in a backstage to share there crativity. Together they create a sensual awkward and funny Burlesqueshow.

AWARDS:
FFF Talent Award Regensburger Shortfilm Festival 2010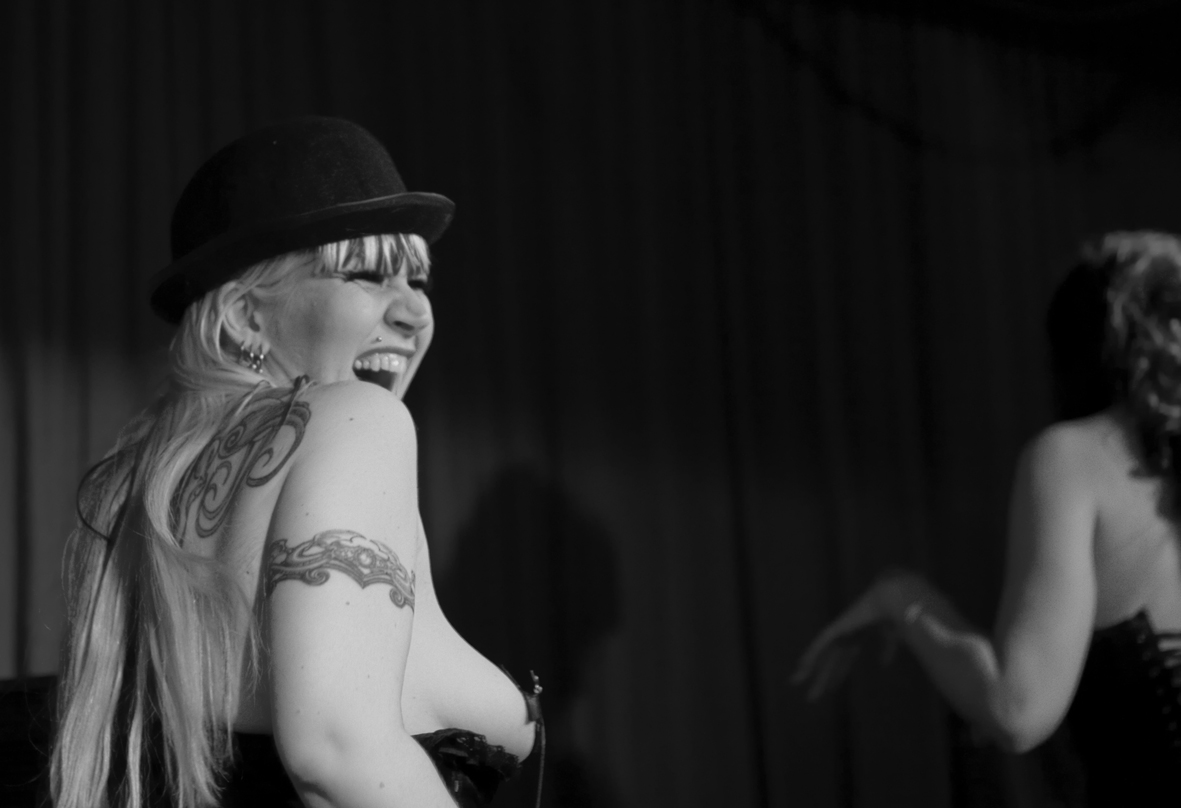 Production: University of Television and Film Munich (2009)
Director & Editing: Denize Galiao
Producer: Isabel Haug
Cinematographer: Tim Kuhn

MENINAS BLACK POWER, Documentary, 15 min.

Black female activists give a voice of empowerment in different ways to fight racism in Brazil.

Production: University of Television and Film Munich (2015)
Director & Editing: Denize Galiao
brodcasted by ARD Alpha

Alessandra, ich wachse jeden Tag!, Documentary, 30 min.

In the notorious City of God district in Rio de Janeiro, a 14 year old girl is fighting for her dream. Alessandra, I grow every day is one of the episodes of the show STARK! by ZDF and KiKa, where each time a child is portrayed who describes the challenges of everyday life from his point of view: how he reaches a goal, how he has made a decision or with a decision, or how it faces new challenges.


Nominated for the Adolf Grimme-Prize 44th Adolf-Grimme-prize
Production: ZDF & Kika production (2007)
Director: Denize Galiao & Carsten Thurau
Editing: Caroline Ehrenburg
Cinematographer: Philipe Guinet