︎
︎
︎
Filmography
SAUDADE

2019 | HD | color | 30 min | documentary |
languages: Portugues, German, English
Winner IDFA Student Award 2019
When Afro-Brazilian filmmaker Denize Galiao starts feeling that sorrow of loss again, her father sighs and says, "Forget about
saudade
and carry on." An old Brazilian legend says that the African gods created the feeling of
sauda
to remind people where they come from and where they are. And that's just what she's suffering from. Twenty years ago Galiao to Germany, where her dream of becoming a filmmaker came true. But the papayas there never taste as good as in Brazil. Galiao's parents live in the Brazilian city of Porto Alegre, and thanks to Skype her birth country is never far away.
Now that her parents need more support, the sense of dislocation is really making its presence felt "You are physically present, while your mind is somewhere else." This short film explores and defines the feeling in various ways, both positive and negative.
Saudade
is a richly layered film about emigration and identity, and about how culture forms your worldview. Will returning to Brazil liberate Galiao from this feeling?
A Michael Kalb & HFF production
Cinematogaphy: Dino Osmanovic
Editting: Valeria Valenzuela
Sound Design: Andreas Goldbunner
watch:
https://vimeo.com/324292373
IN THE SHADOW OF COPACABANA

2014 | HD | color | 60 min | documentary |
languages: Portuguese.
subtitles: German, English
Winner FFF New Comer prize, Dokfest 2014
Ricardo Gama lives imprisoned in his own home, the internet is being his only access to the outside world. For several days the attorney does not leave his flat, which is located at the Copacabana. On his blog he writes and reports about politics, corruption and criminal activities in Rio de Janeiro. As a result, he only barely survived an assassination attempt in 2011, in which he suffered two shots to the head. A year later, Ricardo is running for the City Council of Rio de Janeiro. He sees these elections not only as a way into politics, but a path to freedom, also. While Ricardo runs his campaign on the Internet, rival politicians are fighting for every vote on the streets with music and dancers. Through this single destiny a dark side of Brazil is depicted, a world the public has not yet known.
A HFF Munich production
Producer: Denize Galiao
Cinematography: Jonas Spriestesbach
Edittig: Magdalena Winhart und Denize Galiao
Sound Design: Andreas Goldbunner
Festivals: Dokfest Munich 2014,
Salem Film Fest", Massachusetts USA 5-12th march 2015
One World Film Festival" Prague 2015
Les Ecrans Documentaires Paris Festival
Filmfest, Hungary 2014
IschiaFilmFestival, Italy
DokKa Festival 2014, Kalrsruhe 2014
Salon de la Luz 2014, Colombia - Bogota
Sehsüchte Potsdam 2014
watch:
https://vimeo.com/78290616
THROUGH THE LENS OF INKEDKENNY
2014 | HD | color | 18 min | documentary |
languages: English
subtitles: German | English | Portuguese
Grand Prix at Lugano Film Festival 2013 | Best Documentary at Bamberg Short Film Festival 2013 | 1st Prize at Queer-Streifen Gay/Lesbian Short Film Festival Regensburg 2013 | 2nd Prize at Konstanz Short Film Festival 2013 | Honorable Mention at Regensburger Kurzfilmwoche 2013.
InkedKenny is a photographer who has a special relationship to his models, who dares to look behind the facades, who produces and opposes them. He shapes the universe of the homosexual Bear Community of Montreal by taking pictures of muscular men who embody a certain ideal of beauty. What appears at first glance to be a pure body cult is a source of strength in an extraordinary fate.
A HFF Munich and L'nis production
Producer: Claudia Gama
Cinematography: Jérôme Hof
Editting: Volker Gütlein
Directors: Denize Galiao and Marie Elisa Scheidt
Festivals: DOK.Forum / International Documentary Film Festival Munich 2012, Film Leben Festival Ilmenau 2012, Munich Art Film Weeks 2012, German-Russian-Student Film Festival Moscow 2012, Long Nights of the Museums Munich 2012, Festival Nacional 5 Minutos Bahia 2012, Wildbear Weekend Art Show Vancouver 2012, Indianapolis LGBT Film Festival 2012, International Queer Film Festival Merlinka Belgrade 2012, Lesbian & Gay Film Festival Ljubljana 2012, Munich International Festival of Film Schools 2012, Romanian Gay Film Nights International Film Festival Cluj-Napoca 2012
watch:
https://vimeo.com/66015087
SOME LIKE IT SWEET

2009 | 16 mm | B&W | 15 min | Documentay
languages: German
subtitles: English | Portuguese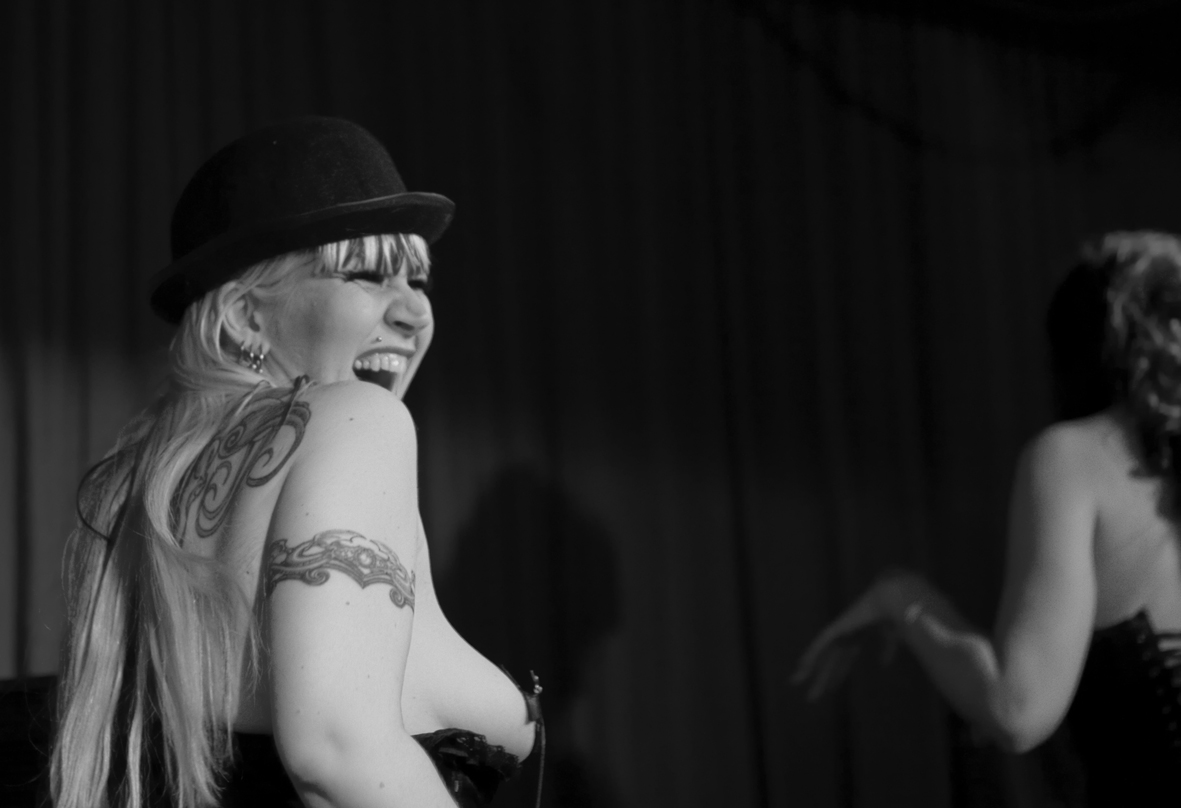 Winner Shortfilm Week Regensburg 2009
Nine women meet in a cellar club. Nine representatives of different subcultures, but one thing that connects them - the passion for burlesque! In Germany there is a special form of pin up performance from the 40s and 50s popular again. The real female body outside the beauty ideal is celabratedcelebrated - stunningly sexy, never vulgar, wicked yet somehow innocent. In a New Burlesque workshop, these nine women are preparing a new show, celebrating the cult of yesteryear with a dash of self-irony.
A HFF Munich Production
Producer: Isabel Haug
Editting: Denize Galiao
Cinematographer: Tim Kuhn
Director: Denize Galiao
MENINAS BLACK POWER

2015 | HD | color | 15 min | TV Documentay | languages: Portugues | subtitles: English and German
brodcasted by ARD ALPHA

They are fighting for their own culture: Afro-brasilians women, who do not want to adapt to a violent culture of discrirmination anymore. In Rio de Janeiro they meet and celebrate their Blackness. They are filmmakers, teachers, social workers rising their voice against racism.

find:
https://vimeo.com/147262680
produced by HFF Munich
Director and Editting: Denize Galiao
ALESSANDRA, ICH WACHSE JEDEN TAG!
2007 | SD | color | 15 min | TV Documentay | languages: German and Portuguese
Nominated for the Adolf-Grimme-Prize 2007
In the notorious City of God district of Rio de Janeiro, a 14-year-old girl is fighting for her dream. Alessandra, I'm growing every day is one of the episodes of the show "Stark!" - Where each time a child is portrayed, describing the challenges of everyday life from his point of view: How it reaches a goal, how it has made a decision or with a decision of Parents bypasses or as it faces new demands.
produced and broadcasted by ZDF/KiKa
Directors: Denize Galiao & Carsten Thurau